Asian Pacific American Heritage Month
May's theme is "Asian Pacific American Heritage Month." Visit the Library's exhitbits at both campuses to see other displayed items such as books and memorabilia.
Please click on the book cover to see its availability.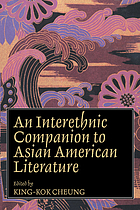 Overview of Asian Pacific American Heritage Month LibGuide
Welcome!
This research guide pulls together a variety of resources you may want to use if you are conducting research on Asian Pacific American heritage.
Want to know where to start your research? Click on the above tabs to find lists of books, journal titles and recommended databases, and recommended reliable websites.
Have questions? Feel free to comment or ask questions about this research guide by clicking on this Send Email link. Feel free to contact a librarian anytime you need assistance.
Good luck in your research.
Recommended Reference Sources
Publisher:
New York, N.Y. : Oxford University Press, 2001.
David Leeming introduces the many mythologies of the Asian continent. Readers may encounter the supreme Gautama Buddha; the elephant-headed Hindu god Ganesa; Chang O, the Lunar Toad and Chinese goddess of the Moon; the sacred Cambodian ruins of Angkor; and golden Mount Meru, home of the Hindu gods.