Art History and Archaeology LibGuide
Welcome!
This research guide pulls together a variety of resources you may want to use if you are conducting research on the subject of art history and archeology.
Want to know where to start your research? Click on the above tabs to find lists of books, ebooks, journal titles and recommended databases, and recommended reliable websites.
Have questions? Feel free to comment or ask questions about this research guide by clicking on this Send Email link. Feel free to contact a librarian anytime you need assistance.
Good luck in your research.
Recommended Reference Books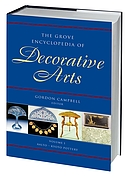 The Grove encyclopedia of decorative arts
Publisher: New York, N.Y. : Oxford University Press, ©2006.
Contains information drawn from Grove Art Online and new material written by G. Campbel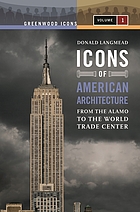 Publisher: Westport, Conn. : Greenwood Press, 2009.
An alphabetical listing of twenty-four American buildings and structures whose history and legends have become part of popular culture including the Alamo, the Brooklyn Bridge, Independence Hall, the Lincoln Memorial, and the World Trade Center.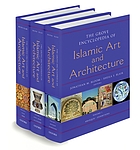 Publisher: Oxford ; New York : Oxford University Press, 2009.
Deals with all aspects of Islamic art and architecture ranging from the Middle East to Africa to Central, South, and East Asia and includes entries on artists, rulers, writers, ceramics, sculpture, metalwork, painting, calligraphy, textiles, and more.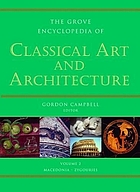 Publisher: Oxford ; New York : Oxford University Press, ©2007.
Covering all aspects of classical art from the Etruscans to the fall of the Roman Empire, The Grove Encyclopedia of Classical Art & Architecture is a comprehensive reference source on this important

field of study.