Introduction to Literature & Compostion: African American Literature and the American Experience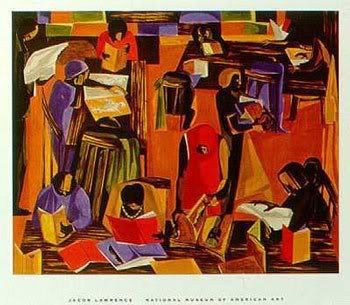 "The Library" (1960) a painting by Jacob Lawrence's, depicts figures engrossed in reading at the 135th Street Public Library in Harlem.
Welcome! This research guide pulls together a variety of resources you may want to use if you are conducting research on the literary works of African American authors.
Want to know where to start your research? Click on the above tabs to find lists of books, journal titles and recommended databases, primary sources and recommended reliable websites
Have questions? Feel free to comment or ask questions about this research guide by clicking above on the PAGE COMMENTS link. Feel free to contact me at the email address provided anytime you need assistance.
Good luck in your research.